Promote your Business and Support a Warrior!
We have the privilege of partnering with individuals and businesses in our community who continue to support Annapolis Christian Academy in various ways. These people and businesses are part of our community and have played an important role in sustaining and growing our school. It is also a great way to streamline your giving and promote your business at the same time!
Sponsorships are an annual contribution.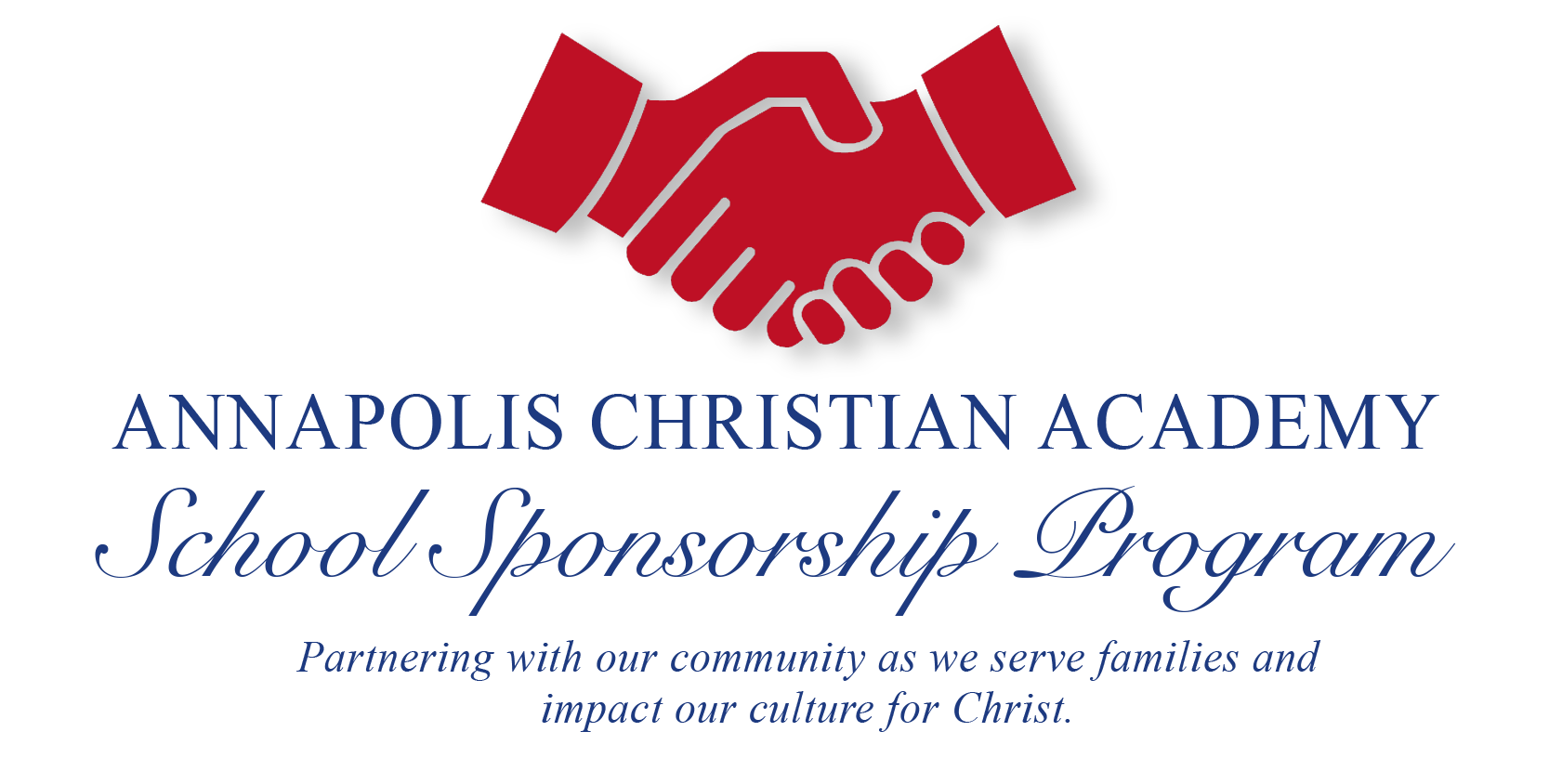 Warrior Level - $25,000
Title Sponsor recognition for school*
Recognition in ACA press release(s)
ACA Marquee company name recognition
Premium name/logo placement and link on School Sponsor webpage
Premium name/logo placement on printed program material for school events**
Premium name/logo placement on digital communications
Premium name/logo placement on school reception area monitor
Logo gym banner (4' x 6')
Social media blast 4x monthly
ACA at the Hooks (6 tickets)
Wine and Wisdom Event with Guest Speaker (6 tickets)

With VIP Parking for 2 vehicles

Invitation to next year's Sponsor Reception
*not included are fundraising events
**performing arts & athletics activities
Guardian Level - $10,000
Preferred name/logo placement and link on School Sponsor webpage
Preferred name/logo placement on printed program material for school events*
Preferred name/logo placement on digital communications
Preferred name/logo placement on school reception area monitor
Logo gym banner (3' x 5')
Social media blast 2x monthly
ACA at the Hooks (4 tickets)
Wine and Wisdom Event with Guest Speaker (4 tickets)

With VIP Parking for 1 vehicle

Invitation to next year's Sponsor Reception
**performing arts & athletics activities
Shield Level - $5,000
Name/logo placement and corporate link on School Sponsor webpage
Name/logo placement on printed program material for school events**
Name/logo placement on digital communications
Name/logo placement on school reception area monitor  Logo on gym banner (2 1/4' x 4')
Social media blast 1x monthly for the current school year
ACA at the Hooks (2 tickets)
Wine and Wisdom Event with Guest Speaker (2 tickets)
Invitation to next year's Sponsor Reception
*performing arts & athletics activities
Sword Level - $2,500
Name listed and link on School Sponsor webpage
Name listed on printed program material for school events**
Name listed on digital communications
Name listed on school reception area monitor
Logo on gym banner (2' x 3')
2 tickets to ACA at the Hooks OR Wine and Wisdom Event with Guest Speaker
Invitation to next year's Sponsor Reception
**performing arts & athletics activities
Sponsorship Levels Overview
| | WARRIOR | GAURDIAN | SHEILD | SWORD |
| --- | --- | --- | --- | --- |
| Amount | $25,000 | $10,000 | $5,000 | $2,500 |
| Logo Gym Banner | 4'x 6" | 3'x 5' | 2 1/4'x 4' | 2'x 3' |
| Printed Programming; Digital Communications; School Sponsor webpage; Reception monitor | Premium Logo placement | Preferred Logo placement | Logo placement | Corporate Name Listed |
| ACA Hooks Night | 6 tickets | 4 tickets | 2 tickets | Option 1 |
| Wine & Wisdom | 6 tickets & VIP parking for 2 vehicles | 4 tickets & VIP parking for 1 vehicle | 2 tickets | Option 2 |
| Sponsor Reception Invite | ✓ | ✓ | ✓ | ✓ |
| Social media blast | 4x monthly | 2x monthly | 1x monthly | |
| Press Release(s) Recognition | ✓ | | | |
| Marquee Recognition | ✓ | | | |
Thank You to Our School Sponsors