Fine & Performing Arts Schools
A robust commitment to the Fine and Performing Arts can be seen at every stage of Annapolis' educational programs. Playing an instrument, dancing, drawing, painting, sculpting, and acting help form the hearts and moral imaginations of students.  The Arts represent a playful and joyful engagement with reality and are instrumental in engaging the affections and passions of students and directing them to love what is Good, True, and Beautiful.
From our youngest to oldest students, Annapolis' comprehensive Arts program encompasses curricular and co-curricular instruction in the following areas:
Musical Arts: Choir, Band, Music Appreciation
Performing Arts: Theater
Visual Arts: Drawing, Painting, Sculpting, Ceramics
Musical & Performing Arts
Visual Arts
The visual arts are a very important piece of the education of an Annapolis student. Throughout their education they will discover and learn about many different kinds of artwork throughout history and the various mediums used. Guided art begins in Kindergarten as students are learning the fundamentals of drawing using various tools. It continues on by pairing appropriate art pieces with the historical time periods each class is studying.
Painting & Drawing
Ceramics & Sculpture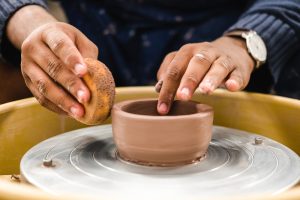 Ceramics & sculpture are the arts of forming clay using wheel work and hand building into various pieces of useful and/or artistic value. Annapolis students can choose to take Ceramics in the Rhetoric school to learn an artist's eye, patient work, and steady focus.
Summary of Art Curriculum
Kindergarten: Intro to the Great Masters
First Grade: Egypt, Greece and Rome
Second Grade: Medieval Art
Third Grade: Colonial and American Art
Fourth Grade: 1865 to Present- Art'ism's. (Impressionism, Fauvism, Cubism, Surrealism)
Fifth Grade: Back to the beginning, Egypt, Greece and Rome
Sixth Grade: Medieval, Renaissance and Reformation Art
Seventh Grade: The grey scale, drawing and sketching in black and white
Eighth Grade: The color wheel: drawing with color theory
Ninth-Twelfth: Painting and drawing in watercolor, acrylic, oil, prisms color, graphite pencil